About Main Line Nutrition & Fitness
Learn about how Lauren George, a registered and licensed dietitian in Wayne, PA, got started. Contact us today.
Lauren George | Registered & Licensed Dietitian Nutritionist (RDN)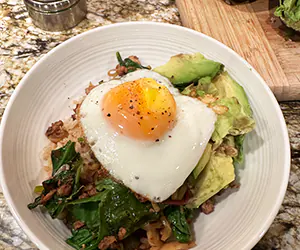 How it Started
It all started for me when I began as a volunteer at Community Volunteers in Medicine (CVIM) located in West Chester, PA. I saw the enormous impact that medical providers had on the community, and that made a huge impression on me. That experience inspired me to seek a profession in healthcare, ultimately leading me to becoming the registered dietitian I am today. One of the services provided by CVIM was in the field of nutrition and dietetics. I enjoyed teaching patients the benefits of functional nutrition. I would teach them how to best cook foods provided by the food pantry and provide them with information about the nutritional value of those foods. In many cases, the patients I worked with had never tried these healthy, fresh foods. Most were surprised at how much they enjoyed the foods and how easy they were to prepare.
My Calling
Seeing the positive impact I was having on people's lives, I knew I had found my calling. I decided to pursue a career in nutrition and dietetics and become a Registered Dietitian Nutritionist (RDN). As I researched the process, it became clear that becoming an (RDN) was a very serious undertaking. To be a Nutritionist did not require any minimum credentials, nor are most Nutritionists regulated by a governing body. That just wasn't the path for me. I wanted to be able to assist all kinds of people. From people with specific medical needs, to those just trying to improve their overall health and wellness or shave a minute off of that extra mile. The certifications of an RDN would allow me to provide medical nutrition therapy (MNT) to people with adverse health conditions.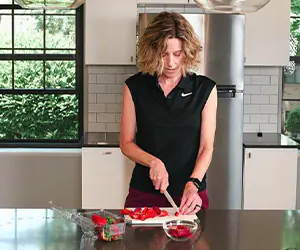 My Journey
So, I completed my training at Penn Medicine, where I focused on personalized nutrition counseling. This type of counseling does not end after a 1-hour session. Personalized nutrition counseling is an ongoing relationship which allows me to consult on a wide range of issues. The next step was receiving my certification from the Academy of Nutrition and Dietetics. To earn the certification, I had to meet the following requirements:
Have a bachelor's degree or higher qualification at a regionally accredited university or college in the U.S.
Have the Accreditation Council for Education in Nutrition and Dietetics (ACEND) or the Academy of Nutrition and Dietetics accredit or approve their coursework.
Complete 1,200 hours of supervised practice through an ACEND-accredited practice program.
Pass a national examination that the Commission on Dietetic Registration administer.
Complete continuing professional educational requirements to maintain registration.
Professional Credentials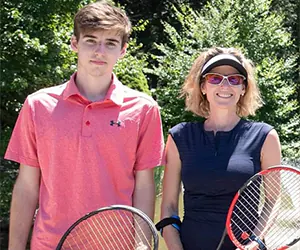 My experience is not limited to clinical nutrition and disease states and assisting clients with weight loss and fitness goals. I also have experience with adolescents and adults in sports nutrition. I was the Head Tennis Coach and Team Dietitian at Devon Preparatory School in Devon, PA. I have helped our team to the pinnacle of performance and winning the Boys Doubles Pennsylvania Championship in 2021. At such a high level of tennis skill, nutrition and fitness are what put us over the top.

I have also counseled young men with weight gain to avoid injury in contact sports like varsity high school basketball and lacrosse. My sports nutrition experience is not limited to adolescents. I have assisted adult athletes realize their performance goals through a robust nutrition program coupled with individualized training. For example, I recently was able to assist a client in shaving strokes off his golf game and he is now playing his all time best.

Lastly, I have helped both college and professional athletes navigate nutrition. One recent college soccer player went from scoring 4 goals to scoring 11 goals in one season after working with me. He reported being much less fatigued and more focused.
Contact Us
Testimonials

"I was interested in losing weight and began using the weight loss app, Noom. I became frustrated when I started to plateau. Lauren was able to create a personalized nutrition and training plan that help me not only meet my weight loss and fitness goals but exceed them by dropping an additional 10 pounds past my target weight. Lauren was the ideal coach to understand my individual goals and how to successfully integrate them into my lifestyle." ~ Jason F., Weight Management Consulting client

"I am an avid, competitive golfer who was seeking a healthier lifestyle, weight loss, and improved athletic performance. Lauren's hands-on approach to nutrition counseling, coaching, and training helped create healthy and sustainable habits. These new habits led to weight loss, better season-long performance and improvement (including my all time best score of 75), and shaved 2 strokes off my handicap, taking me to the single digits!" ~ Mike O., Sports Nutrition & Performance client

"My daughter and I met with Lauren to help her eat a more healthy, balanced diet. Lauren was kind and compassionate and gave my daughter practical, actionable suggestions on how to select nutrient-rich foods. She even gave my daughter some recipes for us to try.

Lauren combines her personable manner with a deep understanding of the science behind good nutrition. She clearly explained not only "what" my daughter should be eating but the "why" behind it as well. I would definitely recommend Lauren to anyone looking to engage in a more healthy eating style." ~ Emily S., Teen Nutrition Counseling client

"My father has had Crohn's disease for 40 years, with colon resection 40 years ago and recently Crohn's became cancerous and had to have an additional surgery. He lost 2/3rds of his colon, lost terminal ileum, with an anastomoses of remaining small bowel to descending colon. In addition, he has kidney stones. This was a very complex dietary challenge to provide adequate nutrition, vitamin intake, anti-inflammatory foods, low oxalate foods, and bile sequestration.

Lauren was incredible in devising a diet that addressed all these issues and continued to do research and readjust as his needs and symptoms dictated. I feel Lauren's concern and direction has given him a higher quality of life. She also was very empathetic and followed up regularly to see how things were going. Lauren provided an excellent balance of knowledge, dietary direction, and personal connection that has contributed to a very good outcome." ~ Amy F., Medical Nutrition Therapy (MNT)

"Lauren is an accomplished nutritionist. Proof is in the pudding. She guided my 17 year old in changing his eating and exercise habits which increased his energy levels, toned his body, and increased his strength which all contributed to his having an excellent tennis season and ultimately led to a men's state doubles championship this year!" ~ Mark B., Personalized Nutrition Counseling and Sports Performance Training for a Teen

"Lauren interviewed me as a nutritional analysis patient as I was trying to lose weight and learn more about nutrition and why I may have been having issues. Through our interviews we had very informative discussions about nutrition, calories, macros, weight loss strategies, apps to use as well as a menu plan with proper food balance and calories recommendations.

I really enjoyed working with Lauren and learned a lot from her knowledge and guidance. I have successfully been losing weight and I believe some of the guidance and structure Lauren has given me was a benefit. I would recommend Lauren as a nutritional consultant." ~ Cynthia S., Personalized Nutrition Plan