Wayne, PA


Diabetes Management through Nutrition Counseling
We have been successfully treating type 1 and type 2 diabetes for years through our custom tailored nutrition plans. Contact our Wayne, PA dietitian today.
Diabetes Management & Dietitian/Nutrition Counseling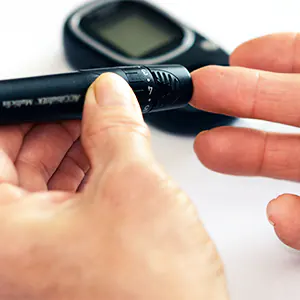 Around 37 million People have diabetes, and the number is rising, according to the American Diabetes Association. Diabetes impairs the body's capacity to metabolize glucose, which raises blood sugar levels. This rise in blood glucose disrupts metabolism and throws off the blood's acid/base balance. The pathogenesis of type 1 diabetes (DM1) and type 2 diabetes (DM2) are distinct. Autoimmune illness is a common cause of type 1 diabetes. The pancreas is attacked by the body, which eventually severely or entirely reduces its capacity to produce insulin, the hormone that enables cells to absorb glucose. When cells become resistant to insulin, which is frequently brought on by an increase in adiposity/fat cells, a poor diet, stress, and inactivity, DM2 diabetes develops. In vain, the pancreas keeps releasing insulin into the bloodstream. In essence, the pancreas "exhausts" and is unable to continue producing enough glucose.

Internal organs eventually suffer damage from uncontrolled blood sugar. Diabetes is known as "the silent killer" since the process can start decades before a formal diagnosis. Diabetes could be categorized as a disease of lifestyle. A great strategy to increase longevity, lessen the need for medication, and maybe lose weight is to prevent raised A1c (pre-diabetes 5.7-6.4) and control existing diabetes (A1c 6.5+) by managing food and lifestyle.
Contact A Wayne, PA Nutritionist for Diabetes
A licensed and registered Dietitian is the most qualified person to deliver this kind of medical nutrition therapy. Contact our Wayne, PA office today to set up a free consultation and take the first step towards successfully treating your diabetes treatment. Our nutritionist is a licensed and registered dietitian (prior spelling was a licensed dietician) who can provide sound nutritional counseling to assist you with the management of your diabetes. Please set up an appointment with a member of our staff in Wayne, PA on the Main Line to take the next step.
Get Started