Professional Dietitian v. Nutritionist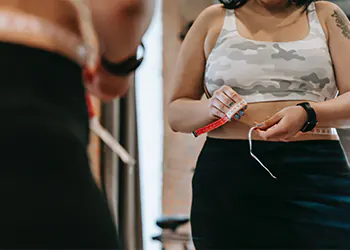 How is a registered dietitian different than a nutritionist?
In the United States, nutritionists must hold a bachelor's degree or higher from a regionally accredited institution or college, whereas dietitians may self-identify with little or no educational background.
Dietitians must have their courses approved or accredited by the Accreditation Council for Education in Nutrition and Dietetics (ACEND) or the Academy of Nutrition and Dietetics.
A practice program that has been approved by ACEND must provide 1,200 hours of supervised practice for dietitians. Non-dietitian "nutritionists" are exempt from having to practice under supervision.
Dietitians must successfully complete a national exam that is administered by the Commission on Dietetic Registration. There is no centralized exam for "nutritionists" to verify a minimal level of proficiency.
Dietitians must fulfill the requirements for continuing professional education in order to keep their registration. It is not necessary for "nutritionists" to do continuing education training or classes.
Doctors may recommend dietitians because they are respected professionals in the medical field. As a result, your insurance company may pay for the services provided by dietitians but not for "nutritionists."
NUTRITIONISTS ARE UNREGULATED AND CANNOT WORK AS NUTRITION EXPERTS IN HOSPITALS OR CARE CENTERS. THE INSURANCE INDUSTRY DOES NOT RECOGNIZE THEM AS ALLIED HEALTH PROFESSIONALS.
RDNs, RDs, Dietitians and Nutritionists: What's the difference?
Practitioners with credentials include registered dietitian nutritionists (RDNs) and registered dietitians (RDs).
A credential is a professional certification that informs the public that a practitioner is a skilled expert, such as an MD for doctors or physicians. RDN/RD is the designation for qualified specialists in nutrition and dietetics. When someone refers to a "dietitian," they typically mean an RDN/RD.
Legally protected titles include "Registered dietitian nutritionist" and "Registered dietitian." These titles and certifications can only be used by practitioners who have fulfilled particular educational criteria, aced a national exam, and are continuing their education through ongoing education.
Yet, "nutritionist" has no clear, accepted definition. Anyone can claim to be a nutritionist, and regrettably, improper medical advice can hurt patients.
What is a dietitian (RD/RDN)?
Registered Dietitians (RD)/Registered Dietitian Nutritionists (RDNs) are professionals in the fields of food and nutrition who have earned a degree from an accredited dietetics program, fulfilled the requirements for supervised practice, passed a national exam, and pursue ongoing professional development. Also, there are credentials in the fields of cancer nutrition, pediatric nutrition, renal nutrition, sports dietetics, and gerontological nutrition (CSG, CSP, CSD, and CSD, respectively) (CSO). The Commission on Dietetic Registration, which serves as the accrediting body for the Academy of Nutrition and Dietetics, grants credentials to board-certified professionals. Many states have regulations for dietitians and nutrition professionals in addition to RDN accreditation.
Registered dietitians have a wide range of occupations. Sports/performance nutrition, healthy lifestyles with or without weight loss, and medical nutrition therapy are my areas of expertise. Medical nutrition therapy treats conditions such as obesity, thyroid illness, auto-immune disorders, cardiovascular/heart disease, metabolic syndrome, pre-diabetes, diabetes, gastrointestinal disease (Crohn's, colitis, IBS, nausea/bloating, etc.), metabolic syndrome, and more. Nutritionists CANNOT cure illness states, it should be stated. The credentials and medical training required to treat disease are only held by RDNs/RDs. RDs and RDNs help debunk all the untrue information on the internet and in social media. No fad diets here; only lasting adjustments that fit your tastes and way of life are used for disease management, weight loss, and performance.
---