Recipe: Quinoa and Vegetable Stew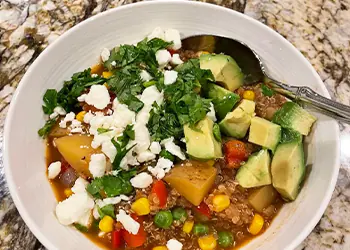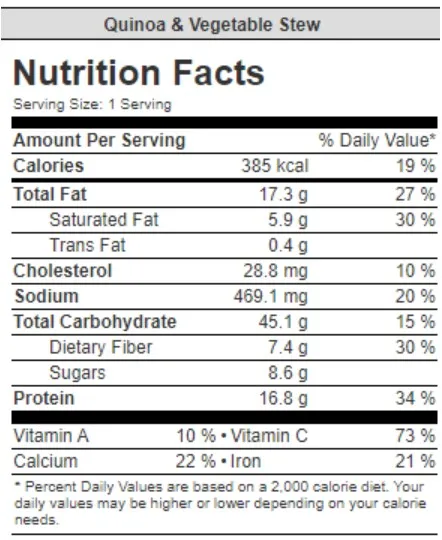 This recipe is inspired by traditional Peruvian Quinoa Stew but with more easily accessible ingredients. A crusty piece of bread along with it really makes it sing. Peas, cheese and quinoa are all good non-meat protein sources. Don't omit the garnish! It's an essential part of the flavor, especially the cheese and avocado. Feel free to add some fiery peppers to the sauté as well if you like spice. This is great as a leftover, too. Enjoy!!
General Information
Prep time: 10 minutes
Cook time: About 30 minutes
Serves 6-8
Ingredients List
2T vegetable or olive oil
1 onion
1 red bell pepper cut into ½ " pieces
3-4 garlic cloves, minced
1T paprika
2T coriander
1 ½ t ground cumin
6 cups of vegetable or chicken broth
1lb red potatoes, unpeeled and cut into ½ " pieces
1c quinoa
1c fresh or frozen corn
2 tomatoes cored and chopped course or pint of halved cherry/grape tomatoes (or 14oz can drained diced tomatoes)
1c frozen peas
8oz queso fresco, feta or vegan cheese crumbled into pieces
1 avocado, diced
½ c minced cilantro (if you have it)
Salt and pepper to taste
Instructions
Heat oil in a dutch oven over medium heat until it shimmers. Add onion, pepper; cook until soft (5-7min). Stir in garlic, paprika, coriander and cumin; cook until fragrant (30sec). Stir in broth and potatoes; bring to boil. Reduce to medium/low and simmer for about 10min
Stir in quinoa and simmer for 8 minutes. Stir in corn and simmer until quinoa and potatoes are tender (5-7min). Stir in tomatoes and peas and cook for 2-5 minutes
Take off heat, plate and top with cheese, avocado and cilantro
YUM!!!
---